Language Coaching – Voice & Accent for British & American TV & Cinema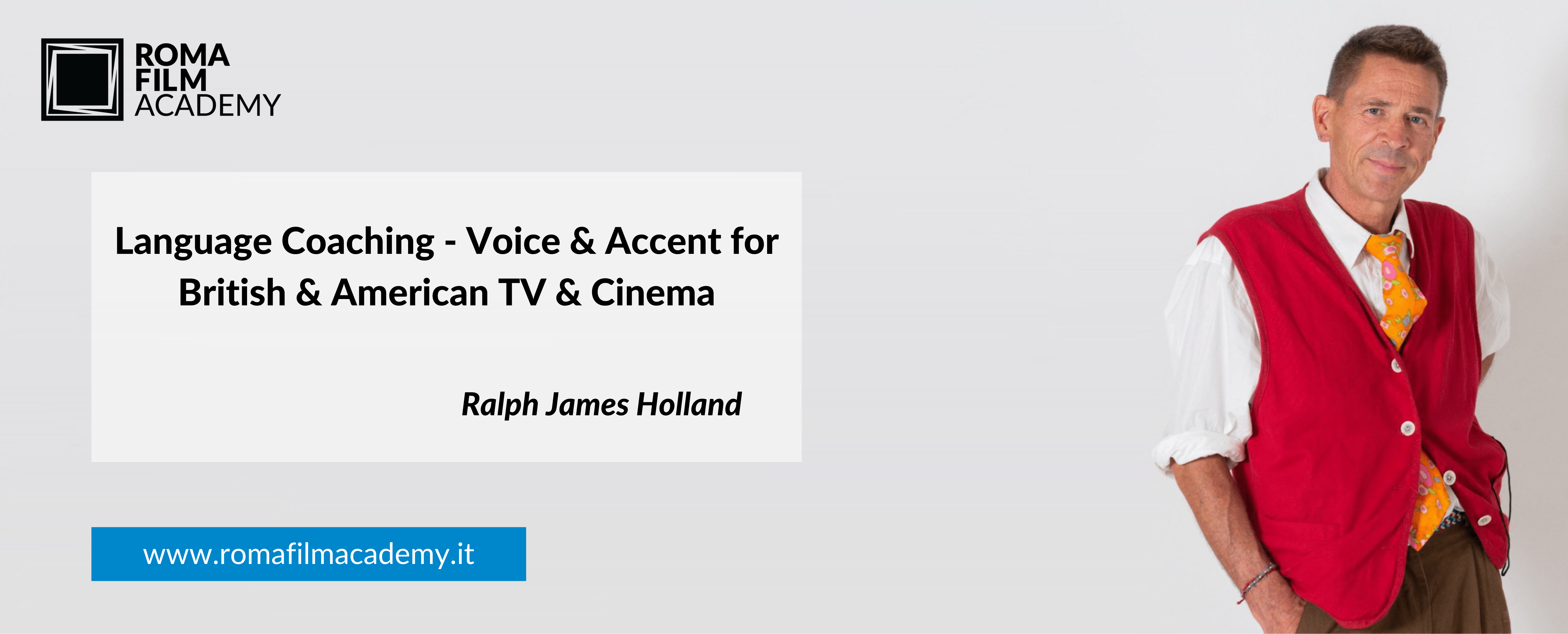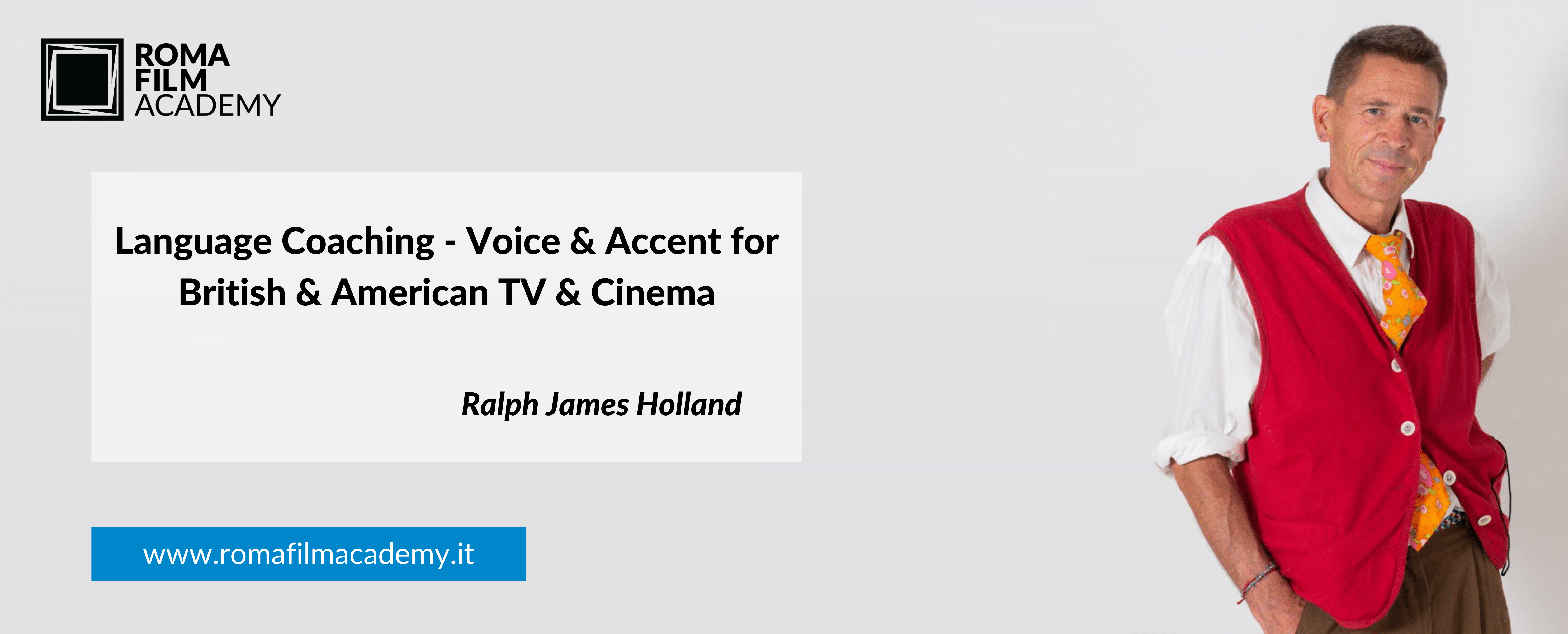 Language Coaching – Voice & Accent for British & American TV & Cinema
Modern-day practices of voice, specifically in British and American cinema and selective TV.
AIMS OF THE COURSE:
Acting sample scripts in English

Discussing various aspects of voice and accent in modern cinema and TV

Gaining strong confidence in fluency of English and acting in EnglisH
CLASSES WILL BE SMALL GROUPS (from three to five) or individual lessons.
The teacher, with his training and interest in linguistics, psychology and neuroscience and passion for the cinema and television, will help actors build a solid foundation to be able work in the English language in national and international productions.
Introductory seminar
Students and teacher to get to know each other within the context of the course. Expectations and course outcomes discussion. Ralph Holland has designed a brief all-class questionnaire focused on English language level and ambitions to file within course library and for 360-degree discussion.
MODULES
The lessons will address topics covered by the following.
Are any words taboo?
Some words remain taboo, but were not always, some become taboo over time, for example today concerning race.
The Politically Correct movement – good or bad?
Gender and attitudes to gender past and present, including, 'Me too'.
Context

.
A briefing on early dramatic voice and drama, including:
The English Dante: Students will have the opportunity to have short workshops to act in pairs or groups on samples of Chaucer's 'The Miller's Tale' dramatic verse.
This class will be treated in a light-hearted fun manner as the language is Middle English and is not easy to read even for native English;
Shakespeare: the beginnings of modern English drama. The students will get to study with more emphasis on actual acting as Shakespeare can be challenging; the language is not entirely modern English. However, the class aims to break down any fears about his drama;
Modern and Post-Modern British and American Drama: based on the same format as the two former classes, the students will focus the work on selection of TV and Cinema and contextual background from the UK and USA.
Woven and intwined into the DNA of the above subjects there will be time focused on The Rise of Accent:
The basis of accent: The Queen's English, Vernacular Modern English, Regional Accents
The British Broadcasting Company: Evolving Accents in Radio, TV series and TV film
British Cinema and Voice

Case studies, TV, and Cinema in Britain from beginnings to the present.

American Cinema and Voice: Broadway, TV, and Cinema, 'What typical American?'

The American Greats including those that understand and use foreign language and accent in their work as actors and directors.

Cross-format productions: non-native speaker's acting and directing in the English language

The Italian Greats: Fellini and Made in Rome.
Modern Cross Format Production
START AND LENGTH OF THE COURSE
Before the start of the course, a meeting will be held by the teacher (to determine the different levels and objectives)
Lessons: 1 hour weekly (for groups courses) from January 31st, 2022 – Until July 31st, 2022
The course can be taken individually or in groups 3 to 5
Times: Tuesday to Friday from 6pm to 8pm and Saturday morning from 10am to 1 pm for groups from 3 to 5.
The schedules for individual meetings will be defined with the teacher
NB: the start of the course is subjected to a minimum of 3 participants.
Costs and payment methods
Cost: 110 €/ month for group lessons to be paid in advance; Individual: 50 €/ hour
To secure your spot in the class, contact the reception (06.69426354 – segreteria@romafilmacademy.it) or click here to be contacted.
HEALTH PROTOCOL COVID-19
All the activities of the course will be carried out in compliance with the health protocols related to COVID-19.
The use of the mask is mandatory as well as the Green Pass inside the classroom and in all spaces where it is not possible to respect the social distance.
About the teacher
Ralph is a native of London where he was born and grew up, as did his father, mother, and grandparents, who were all from central London. In common with all Londoners, he is also the product of migration – from France (the Huguenot persecutions), Ireland (the Famine) and Italy, during the time when many emigrated from Italy to the USA and the UK.
Ralph studied a Bachelor of Science with Honors in Economics, Politics and History with Russian Language in the UK and in Russia, plus a Master of Arts in Slavonic Studies in London.  He then studied a Master of Science degree in Finance again in London. He worked in finance for 20 years.
However, at the English version of 'Liceo' Ralph studied literature and drama, and indeed film, with an early 'claim to fame' of working on and being in a 35mm shot short film with life-long school friend Jason Flemyng and Lena Heady.
Since partly retiring from the world of finance, Ralph has dedicated his time to his true passions:  education, writing and drama and has worked on Italian TV and cinema productions, including I Diavoli (Director Nick Hurran starring Patrick Dempsey and Alessandro Borghi), and day work in Italian cinema, Italian TV, and International TV.
He has lived, studied, and worked for long periods in Israel, Russia (and the Soviet Union), the Netherlands, Bulgaria, and above all in Italy for 21 years.